Ex-Demo Thermal Cameras
Ex Demo FLIR T540 Thermal Camera
464 x 348 pixel resolution
MSX image enhancement
Thermal sensitivity of <0.03˚C (30mK)
Measurement range -20°C to 1500°C
4" rotating colour touchscreen
Supplied with 24˚ thermal lens
The FLIR T540 Thermal Imaging Camera is suitable for highly technical thermographic applications thanks to its high-resolution thermal sensor and wide measurement range. MSX image enhancement helps make thermal images and video more useful by mixing the image with a visible image from the onboard digital camera whilst an enormous internal memory and rotating optical block make the camera even more useful.
Bluetooth technology allows the FLIR T540 to link up with FLIR test and measurement equipment via METERLINK and it can also wirelessly transfer images and video (including live streaming) to a smart device over an onboard Wi-Fi connection. With 6x digital zoom and a laser pointer, this thermal imager is sophisticated and powerful yet extremely user friendly.
RRP Price
£13,260.00+VAT
Ex Demo Price
£9995.00+VAT
Ex Demo FLIR E6 Thermal Camera
160 x 120 pixel resolution
MSX image enhancement
Thermal accuracy of ±2%
Measurement range -20°C to 250°C
The FLIR E6 has a 45 degree lens with fixed focus which offers the user a clear image over a wide field of view, thus making it suitable for HVAC, electrical and mechanical applications. The 120 x 160 pixel thermal sensor uses infrared technology to measure temperature from -20˚C to 250˚C with a thermal sensitivity of 60mK and accuracy of ±2%. MSX image enhancement uses the integrated digital camera to add additional detail to thermal images and video.
Hot and cold spot recognition shows up the temperature extremes on the screen and the camera is capable of saving images to its large internal memory from where they can be downloaded to a PC using a supplied software package and USB cable.
RRP Price
£1442.00+VAT
Ex Demo Price
£1045.00+VAT
Ex Demo Testo 875-1 Thermal Imaging Camera with SuperResolution
A user-friendly, entry level camera
160 x 120 pixel resolution
80mK temperature sensitivity
Measurement range -20°C to 280°C
An entry level camera, the Testo 875-1 nevertheless offers excellent thermal imaging capabilities with a thermal resolution of 160 x 120 pixels and a measurement range that stretches from -20˚C to 280˚C. Thermal sensitivity of just 80mK means that temperature variations of just 0.08˚C can be shown on screen. Suitable applications include HVAC, structural and industrial uses.
The main selling point of the Testo 875-1 is the point-and-click simplicity to help capture accurate thermal images. The fixed focus sensor provides clarity across the 32˚ field of view and the user only needs to pull the ergonomic trigger to take a detailed thermal image with hot and cold spot recognition. SuperResolution software is provided with the ex-demo Testo 875-1 and this can artificially increase resolution as well as aiding in-depth analysis.
RRP Price
£1838.00+VAT
Ex Demo Price
£995.00+VAT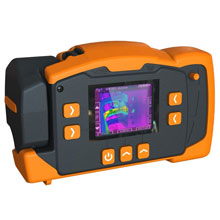 Ex Demo Cordex TC7000 Intrinsically Safe Thermal Camera
Certified intrinsically safe
Suitable for ATEX environments
320 x 240 pixel resolution
Measurement range -20°C to 600°C
As a Cordex product, the TC7000 is certified intrinsically safe, in this case suitable for ATEX hazardous environments in sectors such as oil and gas exploitation, mining and other petrochemical industries. The 320 x 240 pixel thermal sensor does not compromise on detail and the measurement range goes from -20˚C to 600˚C so it is suitable for various forms of fault finding and troubleshooting.
The TC7000 is fully compatible with Cordex IR windows and also has a backlit display for use in challenging lighting conditions. Files from the camera can be compiled on a PC for later analysis and the 8GB internal memory has space for thousands of files. The camera has a sturdy design and is the ideal tool for performing thermographic surveys in challenging environments.
RRP Price
£5695.00+VAT
Ex Demo Price
£ 3495.00 +VAT
Ex Demo FLIR E5 Infra Red Camera
120 x 90 resolution
Built-in Digital Camera
Multi Spectral Dynamic Imaging (MSX)
Picture-in-Picture
Simplistic design easy to use
Measurement Functions with Min/Max area
The FLIR E5 continues the ease of use available on FLIR's latest edition of Thermal cameras. With a 120 x 90 Thermal resolution this camera is versatile enough to be used on a variety of applications. The E5 is extremely sensitive down to < 0.10°C thus granting it the ability to take images suitable for electrical, heating and plumbing inspections. The camera takes Thermal and digital images simultaneously, pairing them within the playback menu. This feature ensures an engineer can quickly reference the exact problematic area in any situation. This intermediate camera is a good choice for an engineer looking for higher quality images and more flexible measurement functions.
RRP Price
£846.00+VAT
Ex Demo Price
£757.00+VAT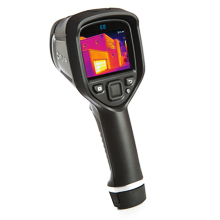 Ex Demo FLIR E8 Thermography Camera
320 x 240 pixel resolution
Multi Spectral Dynamic Imaging (MSX)
Hot & cold spot recognition
Simplistic design easy to use
Built-in Digital Camera
Field of View (FOV) 45° × 34°
The FLIR E8 is the highest resolution model available within FLIR's new E series range of cameras at an impressive 320 x 240 pixels. FLIR have retained the simple user interface while offering powerful imaging capabilities and advanced analysis features.
Higher resolution and thermal sensitivity down to < 0.06°C provides versatility across a multitude of applications ranging from electrical and HVAC inspections to building surveys. The 45 degree field of view will ensure you are able to capture everything required within your building survey. In addition, the E8 has hot and cold spot recognition modes where areas that fall above or below a user defined temperature threshold are clearly highlighted on the image, particularly useful for alerting to overheating components on electrical circuits and blocked or broken pipes.
RRP Price
£2548.00+VAT
Ex Demo Price
£2280.00+VAT
Ex Demo FLIR E60 Thermography Camera
320 x 240 Themal Resolution
Measure from -20 to 650°C
0.05°C Thermal Sensitivity
Picture-in-Picture & Thermal Fusion
Instant Reports in Camera
Wireless Transfer of Images
The FLIR E60 provides detailed thermal images capable of displaying small temperature differences, crucial in the location and diagnosis of faults with electrical and mechanical installations. It is an advanced thermal camera suitable for industrial applications such as detecting overheated connections, short circuits and motor failures. The perfect tool for predictive maintenance teams, the E60 retains the simple point-and-shoot operation of less advanced cameras and comes complete with Wi-Fi technology, image analysis features including Thermal Fusion and the ability to create instant inspection reports within the camera.
RRP Price
£5099.00+VAT
Ex Demo Price
£4323.00+VAT