Ex-Demo Thermal Cameras
Ex Demo FLIR E6 Thermal Camera
160 x 120 pixel resolution
MSX image enhancement
Thermal accuracy of ±2%
Measurement range -20°C to 250°C
The FLIR E6 has a 45 degree lens with fixed focus which offers the user a clear image over a wide field of view, thus making it suitable for HVAC, electrical and mechanical applications. The 120 x 160 pixel thermal sensor uses infrared technology to measure temperature from -20˚C to 250˚C with a thermal sensitivity of 60mK and accuracy of ±2%. MSX image enhancement uses the integrated digital camera to add additional detail to thermal images and video.
Hot and cold spot recognition shows up the temperature extremes on the screen and the camera is capable of saving images to its large internal memory from where they can be downloaded to a PC using a supplied software package and USB cable.
RRP Price
£1442.00+VAT
Ex Demo Price
£795.00+VAT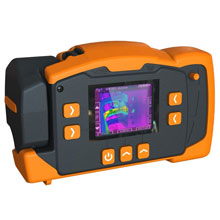 Ex Demo Cordex TC7000 Intrinsically Safe Thermal Camera
Certified intrinsically safe
Suitable for ATEX environments
320 x 240 pixel resolution
Measurement range -20°C to 600°C
As a Cordex product, the TC7000 is certified intrinsically safe, in this case suitable for ATEX hazardous environments in sectors such as oil and gas exploitation, mining and other petrochemical industries. The 320 x 240 pixel thermal sensor does not compromise on detail and the measurement range goes from -20˚C to 600˚C so it is suitable for various forms of fault finding and troubleshooting.
The TC7000 is fully compatible with Cordex IR windows and also has a backlit display for use in challenging lighting conditions. Files from the camera can be compiled on a PC for later analysis and the 8GB internal memory has space for thousands of files. The camera has a sturdy design and is the ideal tool for performing thermographic surveys in challenging environments.
RRP Price
£5695.00+VAT
Ex Demo Price
£ 2495.00 +VAT