Solar Test Equipment Hire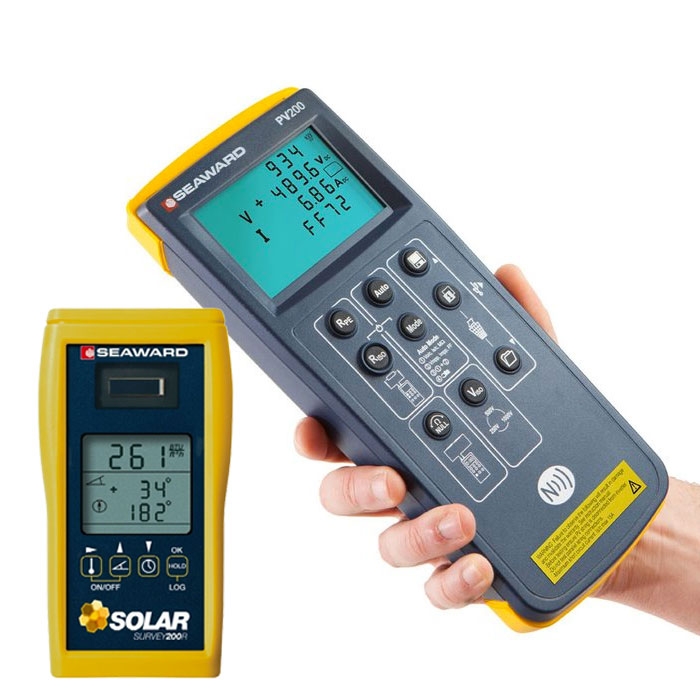 Seaward PV200 Solarlink Test Kit
Typical Applications:
Commissioning and maintaining solar PV installations
Troubleshooting problematic PV cells, OEM testing
Features:
All-in-one commissioning tests
View I-V curves using the FREE Android PVMobile Android app
Earth continuity, Insulation resistance and AC/DC voltage measurement
Open circuit voltage up to 1000VDC, MPP 1000VDC
Short circuit current up to 15ADC, MPP 15ADC
Clamp measure up to 40A, DC power up to 40kW
The PV200 provides a highly efficient and effective test and diagnostic solution for PV systems, carrying out all commissioning tests required by IEC 62446 and performing fast and accurate measurement of I-V curves in accordance with IEC 61829. When used in conjunction with the Solar Survey 200R irradiance meter, the PV200 measurement data can be converted to STC, using either the PVMobile app or SolarCert Elements software, allowing direct comparison with the PV module manufacturer's published data.
£195.00+VAT
PER WEEK
Excludes £10 carriage charge each way (collection optional)
Seaward Solar PV150 Installation Tester Kit
Typical Applications:
Testing and Certifying new PV panel installations to MCS and IEC62446 requirements
Maintaining existing solar PV installations
Features:
Measures earth continuity and insulation resistance
Measures open circuit voltage and short circuit current
Measure operating current with clamp
Measure solar power and compass bearing
Measures ambient & PV panel temperature
Inclinometer measures roof/panel angles
The Seaward Solar PV150 Test Kit meets all the commissioning test requirements of the MCS and IEC 62446. Combining the PV150 Installation Tester with the Solar Survey 200R irradiance meter, this solar PV test kit offers the complete solution to PV installation testing, assessing and commissioning. This hire kit has all the required equipment to measure the electrical safety and performance of a solar voltaic systems, along with irradiance, roof pitch & orientation and temperature. Connects directly to the PV array for simple and testing.. The Seaward Solar Survey 200R Irradiance Meter is an advanced solar power meter that also performs the functions of a digital compass, digital inclinometer, ambient thermometer and PV panel thermometer.
£95.00+VAT
PER WEEK
Excludes £10 carriage charge each way (collection optional)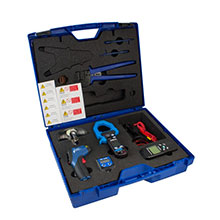 TMPV4 - Solar PV Tool Kit
Typical Applications:
Suitable for installing solar PV hard ware
Maintaining and commissioning new and existing solar PV installations
Features:
Measure short circuit current and open circuit voltage
Measure solar irradiance
Measure cell temperature
Measure roof incline/pitch
Plot solar shade
Includes MC4 crimps, MC4 spanners and solar warning labels
This Solar Installation Tool Kit provides MCS accredited solar engineers with an array of solar test equipment and tools to enable installation, testing, inspection and maintenance on both MC3 and MC4 systems. TMPV4 allows users to measure irradiance, assess DC output and monitor solar panel temperature as well as the crimping and fitting of both MC3 and MC4 cable couplers.
£60.00+VAT
PER WEEK
Excludes £10 carriage charge each way (collection optional)