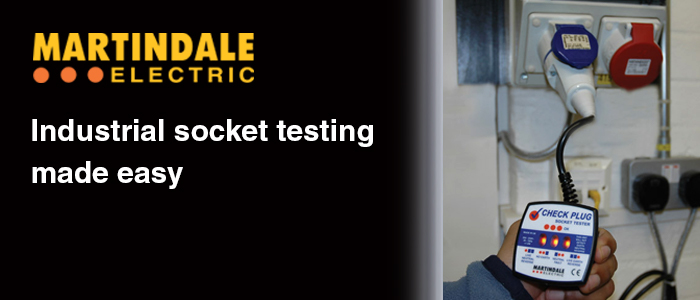 When properly specified, socket testers provide a fast and effective solution to identify potentially unsafe installations and wiring faults. They can be particularly useful as a service tool for identifying potentially unsafe conditions prior to installing new plant and equipment. Socket testers are not an alternative to the full verification of wiring installations, however they are an essential tool for all maintenance teams as a first line indicator.
Most electricians and maintenance teams are familiar with Martindale's BZ101 Buzz-IT and CP501 Check Plug, the UK's favourite test plugs for polarity and fault checking of 13A wall sockets. However, they may not have heard that it's now possible to adopt the same approach for single and 3 phase industrial sockets. In addition to quickly identifying a wide range of fault conditions, the latest 3 phase plug-in testers also show phase rotation. Martindale industrial socket testers include 400V, 230V and 110V models and are now available with 16A, 32A or 63A plug types.
Before carrying out any socket testing it's important to understand what each one is capable of detecting and the different types available. All socket testers check that the earth, live and neutral are the right way around (polarity testing), however, some offer added features – they may include a buzzer in addition to LEDs to indicate a good socket or they may show a combination of indicators to identify which particular fault type is present.
It's important to be aware that there is one fault that a socket tester, and indeed any other piece of equipment, cannot easily find – the swapping of the earth and neutral wires. This is because the earth and neutral are common at the substation, if not closer, so electrically they are indistinguishable.
There are 3 main categories of socket testers as defined by the Health & Safety Executive:
Simple,
Advanced
Professional
The key differentiator between them is in the ability to measure and display either ranges or numerical values for earth fault loop impedance.
Industrial socket testers are basic testers for checking wiring polarity and identifying faulty connections prior to maintenance and installation work. Martindale's three phase socket testers include additional functionality such as phase sequence indication.
The CP Series of industrial socket testers from Martindale includes both 230V and 110V models. The Martindale CP201 is an industrial version of the classic check plug and is available with either a 16A or 32A plug to BS 4343 / IEC309. This socket tester is capable of identifying 28 fault conditions.
Wiring faults are instantly indicated by one or more of the LEDs failing to illuminate, with the pattern of lit LEDs indicating the type of fault detected. Common fault conditions can be quickly identified from the easy to follow chart displayed on the front of the label. This approach is fail-safe in the unlikely event of any of the LEDs failing to operate.
For the checking of 110V centre tapped industrial sockets, Martindale manufactures a dedicated tester, the CP301. It is fitted with a yellow 110V 16A or 32A CT plug to BS 4343/IEC309 and uses 3 bright LEDs to provide fail-safe fault indication with a clear on-tester look up chart for fast and simple fault diagnosis. Fault indications include Line 1, Line 2 and centre tap faults, plus Line 1 or 2 centre tap reversal.
Three Phase Industrial Socket Testers
When working on 3-phase circuits, a phase error connection can be catastrophic for the equipment and endanger personnel. Phase reversal leads to motors running backwards, cooling or lubrication systems underperforming or not working at all and creates a real hazard on equipment such as belt conveyors, elevators or escalators.
The PC104 and PC105 from Martindale test 3 phase sockets and confirm the phase rotation sequence before connecting new equipment to the supply. They can be used for instantly checking sockets in factories and commercial installations for potential wiring faults prior to the connection and maintenance of plant and equipment. Bright LEDs clearly indicate any faults with a simple, easy to follow guide on the tester for quick fault diagnosis.
Key features of these products include:
Up to 7 wiring condition checks
Phase Sequence Indication
Neutral/Earth check
Bright LED indication
16A, 32A and 63A models
The range of 3 Phase Industrial Socket Testers cover 4 and 5 pin socket configurations and 16, 32 and 63 amp versions are available. The testers are enclosed in a tough rubber holster to withstand the roughest of on-site environments.