HV and Utility Test Equipment Hire
Megger Torkel 860 Battery Load Tester
Typical Applications:
Battery load testing
In-service maintenance engineering
Features:
For battery systems from 12V to 480V
Allows batteries to be tested in service
Portable for easy transportion
Unit adjusts to include load currents in the test parameters
User adjustable alarm and shutdown points to avoid excessive discharge
Excellent discharging capacity
Primarily designed for people maintaining battery systems with different voltages, the Megger Torkel 860 Multi Battery Load Tester boasts first-class discharging capacity along with a varied voltage range and outstanding portability.
Allowing use with battery systems ranging from 12V to 480V and discharging at up to 110A, the Megger Torkel 860 Battery Load Tester is the perfect instrument for checking battery capacity in power plants, transformer substations and more.
Offering fantastic portability, the Torkel 860 discharges at a constant current, power or resistance, or in accordance with a pre-selected load profile and allows batteries to be tested in service, whilst also offering user adjustable alarm and shutdown points to avoid excessive discharge.
£450.00+VAT per week
Courier delivery and collection available, please contact us for prices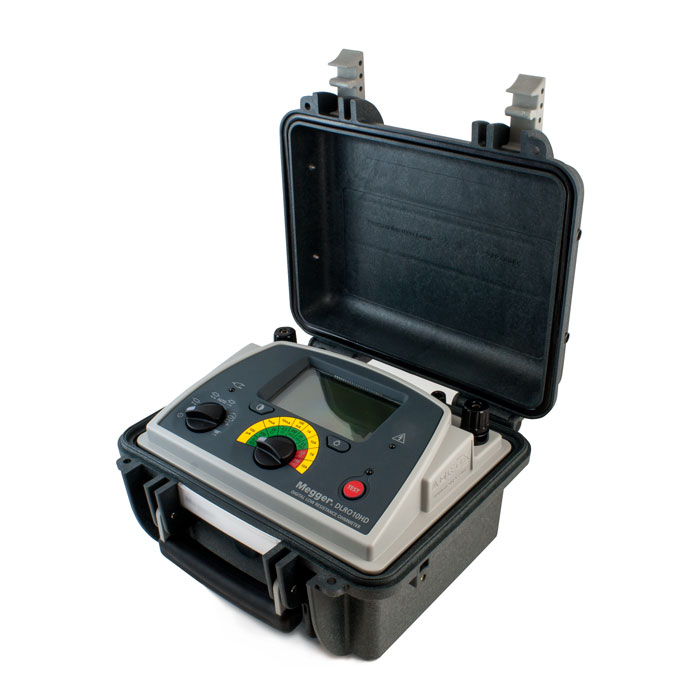 Megger DLRO10HD Low Resistance Ohmmeter
Typical Applications:
Checking resistances of HV switchgear, circuit breakers and busbars
Verifying lightning conductor bonds, motor winding condition and aircraft airframe integrity
Features:
High and low power output selection for condition diagnosis
Powered by mains or by rechargeable battery
Outputs 10A for 60 seconds
CATIII 600V safety rating
IP54 ingress protection
Easy to use
The Megger DLRO10HD is a battery powered, portable ducter capable of outputting currents of up to 10A. Featuring five user-modes, the DLRO10HD is suitable for a range of applications including routine maintenance checks on HV electrical components and OEM tests.
With a 10 µΩ resolution and 0.2% basic accuracy, the DLRO10HD can produce quick and accurate measurements. Supplied with 2 x 1.2m length duplex handspike test leads.
£95.00+VAT per week
Excludes £10 carriage charge each way (collection optional)
Megger DET3TC Earth Resistance Tester
Typical Applications:
Test earth resistivity of rods and mats
Lightning protection system checks
Features:
2 and 3 pole earth tester - ART method optional*
Electrical noise filter
0.01Ω to 2000Ω range
Automatic C and P spike check
Selectable 25V or 50V output
Supplied with lead and ground stake kit
A simple to use earth resistance tester capable of checking ground resistances between 0.01Ω to 2000Ω. Featuring a 25V or 50V output, the Megger DET3TC is suitable for a range of testing applications including earth rod tests, lightning system tests and general ground resistance checks. With an inbuilt electrical noise filter capable of rejecting noise of up to 40V, the DET3TC can provide accurate measurements, even in noisy environments such as substations and plant rooms.
*Megger iClamp available for ART testing upon request for an additional £35+VAT per week
£90.00+VAT per week
Excludes £10 carriage charge each way (collection optional)