From providing brand new functions, improving on the old or simply finding solutions to make the operators job easier, this year has produced some incredible new innovations in the field of test equipment. We've put together a convenient shortlist of what we believe to be the top five devices released in 2019. With such an incredible range of products available - if you work in gas, electrical or buildings sectors - we guarantee you should give these a look!
Megger MFT1741+ Multifunction Tester
The Megger MFT1741+ Multifunction Tester has set itself apart from the competition this year with some groundbreaking new features. With the ability to perform fully automatic testing on 6mA RCDs, employing advanced loop testing technology, it's the perfect all-encompassing solution for testing domestic, commercial and industrial low voltage electrical installations. Crucially and unlike the vast majority of its peers, the MFT1741+ can also test electric vehicle charging equipment. These extremely accurate anti-trip loop measurements, having fully removed the effects of RCD impedance, are proven reliable by the patented confidence meter situated just above the screen. This ARC display reduces the need for repeat testing and rounds out a highly dependable piece of kit. There's even an extremely limited edition model celebrating the 130th anniversary of Megger, complete with a slick black design and the capabilities of a full scope installation tester.
Read More: Megger MFT7141+ | Megger MFT7141+ Black (Limited Edition)
Kewtech SMARTPAT PAT Tester
The Kewtech SMARTPAT PAT Tester is quite simply an incredibly unique and brilliantly versatile device. A battery-powered PAT tester, the SMARTPAT is capable of performing all of the standard functions expected of a portable tester in addition to so much more. Load and run testing for example, checking both earth leakage current and the total current drawn from the socket, can be performed on both 110 and 230V appliances. Regular PAT testing functions such as insulation resistance tests can be performed on surge-protected extension leads, due to a lower 250V test voltage. The 200mA earth bond continuity test can be extended to 5 seconds as needed. The SMARTPAT, compatible with both 10mA and 30mA devices, can complete no-trip RCD testing. These extensive PAT test sequences can be fully customised in the KEWPAT App (available for free on Android), uploaded to the tester and controlled remotely from the app itself. The SMARTPAT is the most advanced tester from Kewtech's great new range, which also includes two more affordable options, the EZYPAT and EZYPAT Plus.
Read More: Kewtech SMARTPAT | Kewtech EZYPAT | Kewtech EZYPAT Plus
Tramex ME5 Moisture Encounter Meter
The Tramex ME5 Moisture Encounter Meter is one of the best non-invasive options on the market right now for detecting moisture in a variety of building materials, including wood, drywall, plaster, tiles or even masonry. With an impressive non-destructive signal, capable of measuring wood moisture content between 5 and 30% and producing a 0 to 100 Wood Moisture Equivalent (WME) comparative reading, the meter can measure up to 30mm deep. Boasting five sensitivity ranges for a variety of materials, the Tramex ME5 is perfect for mapping moisture damage, monitoring progressive drying conditions and comparing surface with core moisture levels. The standout feature of this slick yet rugged device however, is the ability to connect via Bluetooth to the Tramex App (available on iOS or Android) which can then store readings. Many of these features can also be found in the ME5's sister device, the Tramex CME5 Concrete Encounter Moisture Meter for use on concrete and anhydrite screed.
Read More: Tramex ME5 | Tramex CME5
Martindale PD690SX Proving Unit
The Martindale PD690SX Proving Unit, alongside its sister device the PD440SX, have distinguished themselves as two of 2019's most useful new instruments. Like many proving units the SX range provides a known voltage source for safe isolation procedures, with the PD690SX producing 690V 50Hz and the PD440SX creating a constant 440V 50Hz. However, what sets the Martindale SX proving range apart from the competition is the innovative new CALCHECK feature. Despite annual calibrations, testing equipment may 'drift' over a period of time which in turn produces less and less reliable results. These devices, in addition to being fully capable of performing the regular functions of a proving unit, can be used to check the calibration of multifunction, insulation and continuity testers ensuring they continue to provide accurate results. The SX range includes both twin insulation values (0.5MΩ and 1MΩ) and continuity values (0.5Ω and 1Ω) needed for checking the necessary test functions.
Read More: Martindale PD690SX | Martindale PD440SX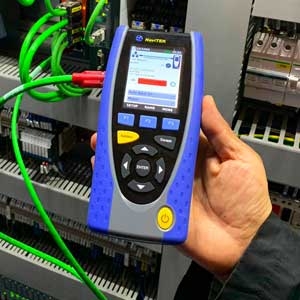 Ideal NaviTEK IE PROFINET Network Tester
The Ideal NaviTEK IE PROFINET Network Tester, with its numerous advanced testing functions, intuitive interface and plethora of smart features, is specifically designed to make the operators job considerably easier. This highly capable device simplifies the testing process without requiring an additional PC or costly specialist software. Among its many intelligent testing features, one of the most impressive is the tester's series of advanced wiremap tools for PROFINET and Standard Ethernet networks, even displaying the correct wiring colour and cable length. By utilising Time Domain Reflectometry (TDR), it can also determine the exact location and cause of any fault in the wiring. Significantly, and one of the main reasons the NaviTEK IE is one of our top products of the year, it tests each individual wire in a network rather than every pair. This gives the tester the ability to detect a far greater range of faults than other Network Testers.
Read More: Ideal NaviTEK IE PROFINET Network Tester
To learn more about any of the above products, please don't hesitate to check out the appropriate product page. Alternatively, give us a call on 0113 248 9966, we're always happy to answer any queries.